Enjoy mountain wellness at Vital-Hotel Rainer
We want you to relax.
Warm up your muscles in the sauna after a hike in glorious Ultental or a ski tour in the beautiful Schwemmalm ski area.
Or allow us to pamper you with an extended massage.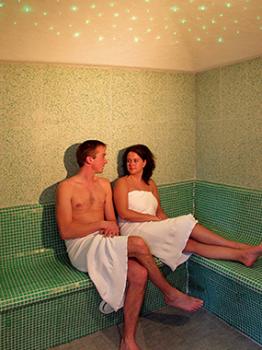 Our Feel-Good Oasis
Wellness zone on the 3rd floor:
• 15 m2 panoramic Finnish sauna
• Panoramic relaxation room with magical views of our mountain world
• Panoramic rooftop terrace with hot tub

Wellness zone on the ground floor:
• Steam bath
• Organic herbal sauna for the whole family
• Relaxation room
• Nap- and relaxation room with water beds
• Spa showers
Massages... gentle touch can do so much good
By arrangement, we are happy to pamper you with a variety of massages and beauty treatments. Aside from classic full-body massages, we also offer you massages with aromatic oils, sports massages and Ayurvedic massages. (charged extra)
"Ultner Badl"
The "Ultner Badl" promises pure enjoyment in a wooden hot tub. Natural essences such as wild-rose oil, St. John's wort, arnica and marigold relax, loosen, regenerate and revitalize your body! (charged extra)
Fitness in Ultental
The biggest fitness studio imaginable awaits you right outside our front door - we are talking, of course, about the nature of Ultental itself!